FSP Releases Battery Chargers for AGV and AMR
【Taipei News, May 4, 2021】The pandemic has changed people's way of life. Changes in the consumption habits of the general public have led to rapid e-commerce and shipping market growth. Logistic processing efficiency has become one of the key capabilities of competing business owners. In addition, in the era of Industrial 4.0, smart factories extensively adopt machinery to replace manpower, thereby enhancing production efficiency and accuracy. Therefore, demands for unmanned Automatic Guide Vehicle-Unmanned Handling (AGV) and Autonomous Mobile Robot (AMR) will significantly increase in line with market expectations.
In order to ensure the smooth operation of AGV and AMR, battery and charger stability play an essential role. The FSP has developed a 600W charger (FSP600-1UAC01) acceptable to a full range of input voltages, with an output voltage of 50.4V-58.8V and an output current of 10.0A. The product has a streamlined appearance and a compact size of only 202*132*69mm/2.2Kg.
In addition, according to different AGV/AMR designs, the FSP also provides:
On-board chargers: IP65 waterproof and dustproof grade; CAN bus communication interface option;
Off-board chargers: IP54 waterproof and dustproof grade; handheld handle design; CAN bus communication interface option;
The CAN bus communication interface facilitates software updates and features battery operation data recording, anomaly reporting, etc.
FSP's greatest advantage lies in its more than 400 R&D personnel and nearly 30 years of power development experience. Therefore, we are capable of providing different types of customization services. Unlike charger products with the same wattages available in the market, FSP600-1UAC01 has the added function of charger condition setting. It provides micro-customization services of charging voltages/currents, locking mechanisms/wires, charging curves that cater to customers' AGV or AMR product needs.
The FSP offers chargers for e-bikes under 300W and industrial chargers with high wattages above 400W. Our products come with a complete range of wattages. Feel free to write us if you have different wattage terminal application needs. We can provide you with tailored products and services.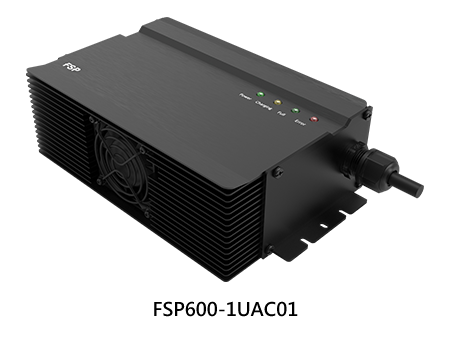 For more FSP product information, please visit: