Allen Cheng, Co-Founder and Chairman
We Make the World Better
FSP, which was founded in 1993, has transformed itself into a well-established and diverse corporation. I would like to express my gratitude to all of our partners and their families, as well everyone over years who had lent us a hand and inspired us. I am, at the same time, also grateful for the hardships we endured as they strengthened us and made us even more resilient.
Over these past 30 years, FSP Group spared no effort in improving ourselves and our products. As we strove for excellence, goodwill from all walks of life were generous and provided guidance in our journey and became a strong force in shaping our business philosophy and culture. It is because of this that we deeply understand our responsibility to ensuring environmental sustainability and paying back to society. This force has brought together like-minded people to help achieve our ultimate goal: We Make the World Better.
This is a new starting point for all partners of FSP to work together as a team to move towards the goal of "sustainability, co-prosperity, and rebalance". We will encourage one another to create sustainable values for FSP Group. Let's strive to reach our goal!
Richard Wang, Co-Founder and Vice Chairman
A Blessing from Above
Dear colleagues and partners, I am honored to be here to witness the 30th anniversary of FSP. Thank you for your support and contributions over the past 3 decades. FSP has thrived because of your hard work. 
A Blessing from Above - With the good fortune we have been blessed with along the way, we have also put in a lot of effort that saw the business go from strength to strength. Due to the impact of COVID-19, we were faced with unprecedented setbacks and challenges, including global inflation and economic contraction. Despite the hardships, we will continue to march on by working hand in hand with a positive, precise, innovative spirit and attitude in order to keep up with the times. Meanwhile, we will do our utmost to give back to society while striving for sustainability. I wish you and your families good health.
Alan Yang, Co-Founder and President of Manufacturing
The Next 3 Decades of Innovation, Technology and Teamwork
Since its establishment in 1993, FSP is about to approach its 30th anniversary.
In our first decade, we started out as a manufacturing company and accomplished its goal by becoming listed in 2002. In our second decade, we merged with 2 partner companies: Protek Power Inc. and 3Y Power Technology. Since the merger, our product range has become much more diversified because from originally catering to original PCs, IPCs, open frames, and chargers, we expanded our product range to now cover medical power supplies and industrial 1+1 redundant power supplies. In our third decade, we slowly moved towards product diversification and technological deepening as we strove to create top-class power supply products for all customers.
Under the leadership of Chairman Cheng, FSP Group will welcome the next 3 decades with innovation, technology and teamwork.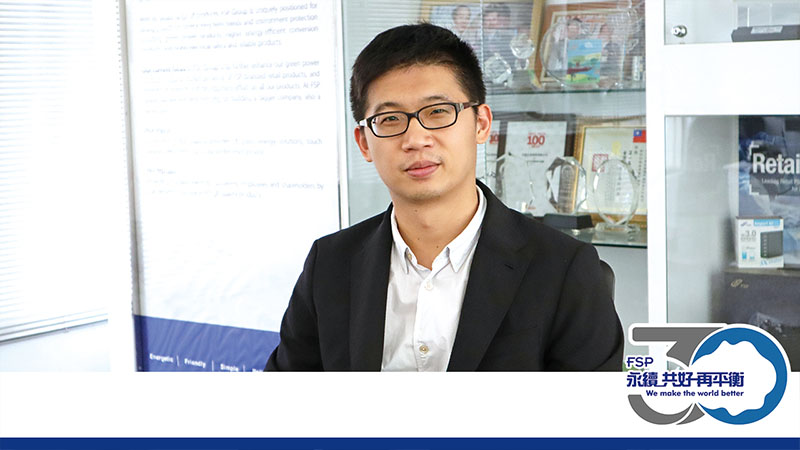 Ben Cheng, COO
A Miracle? Not At All!
In 1993, a few like-minded people who were brimming with ambition swore to make FSP Group work out.
Over the past 30 years filled with opportunities and challenges, we built up our momentum as partners across all sectors joined hands and kept our momentum up. Over the years, FSP continued to develop and thrive. Having been with FSP for 15 years, I witnessed countless changes and revisions. "Just how did FSP take on all these challenges despite the immense internal pressure it was facing?" I remembered pondering about it. I believe that if it weren't for these countless baptisms of fire that FSP experienced, FSP would never be as resilient as it is today.
To all employees who contributed to FSP's success, thank you. As for me and my team, the next 3 decades is a new beginning because the world is ever-changing. May our response to changes in geopolitics, net-zero emissions and ESG be even more agile with each day.
We join hands with our partners and keep our chin up and stay enthusiastic, together investing in more industries of the future. Power Never Ends!
Bruce Chen, President of Kaohsiung Branch Office
Quietly Doing Good to Achieve the Co-Prosperity
I established Protek Power Inc. (FSP Kaohsiung Branch's former self) in 1984, and Protek Power's main product portfolio were open frame and adapter for medical equipment, medical information, and industrial applications.
In 2007, Protek Power merged with FSP, with a focus on strengthening FSP's medical, information, and industrial power supplies product lines. Through the merger with FSP, we hoped to increase our products' price-competitiveness through FSP's scales of economy in the form of material procurement advantages. These advantages would therefore translate into reduced material costs for FSP's Kaohsiung Branch and hence price competitiveness.
Even as we celebrate FSP's 30th anniversary, let us leverage on this opportunity and scrutinize ourselves. With regards to this, Chairman Cheng has declared that that FSP Group's future direction will be based upon "Ultimate Goals", with "sustainability, co-prosperity, and rebalance" serving as the main thrust of the company's future developments.
I would like to wish FSP Group a wonderful 30th Anniversary, and hope that the group will continue to quietly do good to achieve the co-prosperity.
Stephen Lin, Assistant Vice President of 3Y Power Technology Inc.
Collaboration in Creating New Opportunities
It is my pleasure to be able to join the extended FSP family in 2005, and I would like to congratulate the Group for its 30 years of achievements whilst wishing it a wonderful 30th anniversary.
After joining the Group, I vividly recall the Lehman Brothers' bankruptcy which triggered the 2007–2008 Financial Crisis and sparked panic across all sectors across the world. Thanks to Chairman Cheng's wise leadership and the efforts of all employees, FSP Group not only survived the crisis and went on to deliver the best results in the Group's history.
Looking back at the past 3 decades, FSP Group - with its complete and diverse range of products and comprehensive global services, is now one of the top 10 global manufacturers for switching power supplies, thus successfully making a name for itself. I look forward to growing, and thriving alongside FSP Group in this journey of creating new opportunities and value, thus reaching another peak in the Group's performance.
Shelly ChuDirector of FSP
C. J. CHERNGIndependent Director of FSP
Shou Hsiang LiuIndependent Director of FSP
Aleš Kilnar, Chairman of the Board
Martin Harazim, Purchasing Director
Martin Hlobil, Product Manager
AT Computers a.s.
Gilles Veyrunes, Sales Director
Francois Moriamez, Managing Director
CATS
Marcus Bell
Managing Director
Divisoft AB
Miroslaw Kozlowski
Managing Director
MK Solar Energie Konzepte
Stanislav Minkin
General Manager
be quiet!
Tom Knicker
Purchasing Manager
WORTMANN AG
Linda Tsai
President of Industrial-IoT Group
Advantech
Jim Liu
Chairman
ADLINK Technology Inc.
Maggi Chen, Chairman
Corona Chen, CEO
CHENBRO MICOM CO.,LTD.
Eric
CEO
WT Microelectronics Co., Ltd.
Elton Tsang
Sr. Regional Sales Director
NXP Semiconductors Taiwan LTD
Prince Yun
President
Avnet Asia Pacific
Tiffany Chen
Managing Director & PSS SMD Head of Taiwan
Infineon Technologies Taiwan Co., Ltd.
Polly
Head of Sales
STMicroelectronics
Luke Lee
President of TI Taiwan, Korea and South Asia Sales & Applications
Texas Instruments
Wen Kai Chung
PrincipalHsing Fu Junior High School
Corbett Wall
Being Present Youth Support International Exchange NGO
Lewis Lu
Library Director
National Changhua Senior High School, Taiwan
Huei Cheng Chang
President
Sharestart Educational Foundation