Smart lighting system
Amid the rise of IoT, the smart family is coming into age and so is smart lighting. The latter is a system which auto tunes the most comforting color temperature and brightness according to information provided by sensors based on needs of mental or physical of human beings or matters being lighted. Conventional lighting device suppliers are also launching customized lamps to attract consumers. A good example is integrating lamps with smart devices, which enables remote control by downloading and installing given Apps.
In addition to remote control FSP Group is offering smart lighting system with auto learning control, address changeable light control interface (DALI), online firmware update, multiple communication protocol support, and user friendly interface.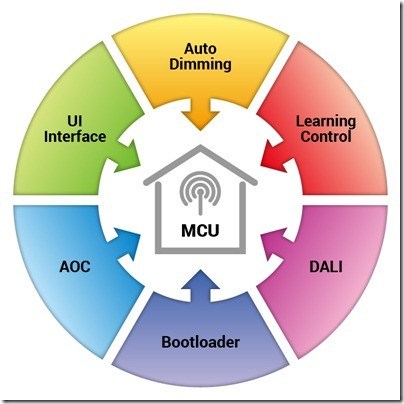 The auto learning control works together with auto dimming function for energy saving.
1. ON/OFF learning:
Turning lights on at the same time in summer. Winter wastes power as summer nights are shorter than the winter one. This function learns about lights on/off time of last night and applies it to the next day. That is, it changes on/off time according to varying time of sunrise and sunset.
2. Contingent settings:
Change brightness of lamp at different time spans each night to adapt to environment relevant. For example, set to brighter light at early night (100%) and dimmer light at late night or low activity area (50%). This may save large amount of power in case of road lamps or large-scale lighting.
DALI is designed for light control in master-slave mechanism where a master control unit address and control multiple slave lamps. The conventional addressing mechanism is prone to invalid slave device installation location. DALI reverses this by installing slave device first then sending an address signal to a slave device from a smart device or remote controller before the slave sends its address to the master to complete the addressing process.
The FSP Group has been dedicated to R&D of lighting power supply products and gaining customer recognition and trust for 10 years. These smart light changing and addressing technologies are aimed not only at improved conveniences and energy saving but also contributing to the world in energy saving and carbon reduction.
About FSP
FSP Group is one of the global leading power supply manufacturer. Since 1993, FSP Group has followed the management conception "service, profession, and innovation" to fulfill its responsibilities as a green energy resolution supplier.