How to Choose Power Adapters to Safeguard Electronic Devices?
Overviews
Power Adapters are ever-present in our everyday life. Many people use power supplies every day, but do not necessarily understand them. Some people call a Power Adapter in Chinese an a/c adaptor, while some brands call them adapter to better sell. However, "external power supply" is the correct name.
A Power Adapter is a power supply device that helps input current and conversion into power supply for electronic devices and electrical appliances. Therefore, if the right product fails to be picked, or if a product with poor quality and error is chosen, it will damage electronic devices and electrical appliances, but it can also cause injuries to users.
Just how should a Power Adapter be selected correctly? Let professional manufacturers FSP Group who have cultivated the power supply market for nearly 30 years, give you an insight into Power Adapters and how to go about choosing them.
What is a Power Adapter? What are the Applications?
Various products we use in everyday life, such as computers, come with an internal power supply device. However, such products as thermal printers, small ATM machines, credit card machines, or handheld POS machines sometimes cannot accommodate power supply devices due to their mini sizes. External power supplies may be used if other product structure design considerations exist.
Let us not underestimate power adaptors that are small and carried around in a bag. They are the heart of electronic devices and appliances. A bad choice may deprive us of the chance to use these products properly, leading to a shorter product life.
How do Power Adaptors Work? How to Ensure the Safe Use of Electronic devices?
The basic operational principle of Power Adapters focuses on power generated depending on different countries' use of electricity at different voltages, as well as conversion to "suit" product use. Basically, through modern electronic technology, the power supplies and management devices maintain the stability of output voltages.
Conversion efficiency is an existential issue when a Power Adapter is at work. When the input power is 100W, the conversion output is lower than 100W. The redundant power will generate and dissipate heat. Therefore, the key technology in the Power Adapter design is heat dissipation from the outer casing. A poor design may result in a low temperature burn during the use.
As an external power supply device, a power adapter may be small in size, but it actually has a considerable technical threshold. Each electrical appliance with a built-in motor must import a voltage start motor with higher power when turning on. How to achieve high output within a short period of time and power stability for a long time, small volume, high heat dissipation, and safety, taking into account the Power Adapter's long service life and all-rounded aspects, the manufacturer's technology is put to the test.
After learning about how a Power Adapter works and why it is needed, it is more important to recognize how to pick a good Power Adapter. In particular, if you often go on business trips in different parts of the world and an external power supply is needed at all times, things may go wrong when there is an emergency if you choose the wrong product.
Is a Power Adapter suitable? First, usage situations are taken into account. A Power Adapter can be divided into two types: desktop and wall mount. Wall-mount power supplies have been designed with a plug directly plugged into a socket on the wall, while both sides of the desktop have power lines for more flexible use, which can be purchased based on actual user needs.
Regardless of the type of Power Adapter, whether the input plug specifications are in line with the local socket in a country is the most important. If the specifications are non-conforming, a universal adapter will need to be purchased. Additionally, when it comes to the specifications of tip heads used to connect electrical appliances, the tip head type should be noted if a power supply needs to be separately purchased, to prevent not being able to use it after it is purchased.
There will be socket specification differences at the connecting power line if it is a desktop external power supply. Currently, the standard specifications include: C14 (vertical, three-hole), C8 (round, figure-8 2-hole), and C6 (Mickey Mouse-shaped hole). This is the focus to be considered during AC power Cord selection.
Of course, as a power supply, "electricity" is the key. Read information on the product or package label in order to understand if a power adaptor is suitable. An assessment covers three basic aspects.
Safety Standard Approval;
Energy Efficiency level;
Input and output power labeling
The most basic requirement for a certified power adaptor is to obtain safety certifications from different countries. Manufacturers usually include these certifications on the label. Each country has its own set of safety specifications, and the most universally used is of course the U.S. (UL/cUL) certification. The EU CE-Marking Low Voltage Directive (LVD) is in line with the declaration and China's CCC certification.
Every country varies in the safety certification requirement focus. Take the EU CE-Marking Low Voltage Directive (LVD), for instance. It has stricter environmental protection specifications compared to other countries. The higher the number of safety certifications obtained, the more easily it is to sell a Power Adapter across the world, with higher applicability.
The acquisition of safety certifications is only but a basic requirement for external power supplies. Whether the DoE efficiency level label is on the label needs to be further examined. In order to sell products in the U.S. market, the DOE's mandatory specification for efficiency level is Level VI.
Worth noting is that a mandatory requirement of DoE is that the efficiency level of imported products must be labeled. On the other hand, although the European Union also has regulations that products must meet CoC efficiency standards, DOE's specifications may also serve as the standard. Therefore, clearly listing the efficiency level on the label is the basic criterion for Power Adapter selection.
More importantly, whether a Power Adapter meets one's own needs can be verified through AC INPUT and DC OUTPUT labels.
The AC volts (V) input represents the countries intended. The country with the lowest AC voltage is Japan (100V), while Europe, the United Kingdom, and China have the highest voltage of 240V. If a Power Adapter's AC input is labeled 100-240V, it means it can be used in all the countries around the world.
For Power Adapters to be used in different countries, they must supply adequate power to be used. For this part, the volts (V) and amperage (A) displayed in the DC output are multiplied to derive the power supply wattage. This is then compared to the product ready to be used to determine if the power supply requirements are met.
How to pick a Power Adapter? FSP's Power Adapter purchase recommendations
Before selecting a power supply, we must first confirm the best performance of the device in order to select a complementary power supply. FSP provides the universal form of Power Adapters below as a reference for everyone during selection.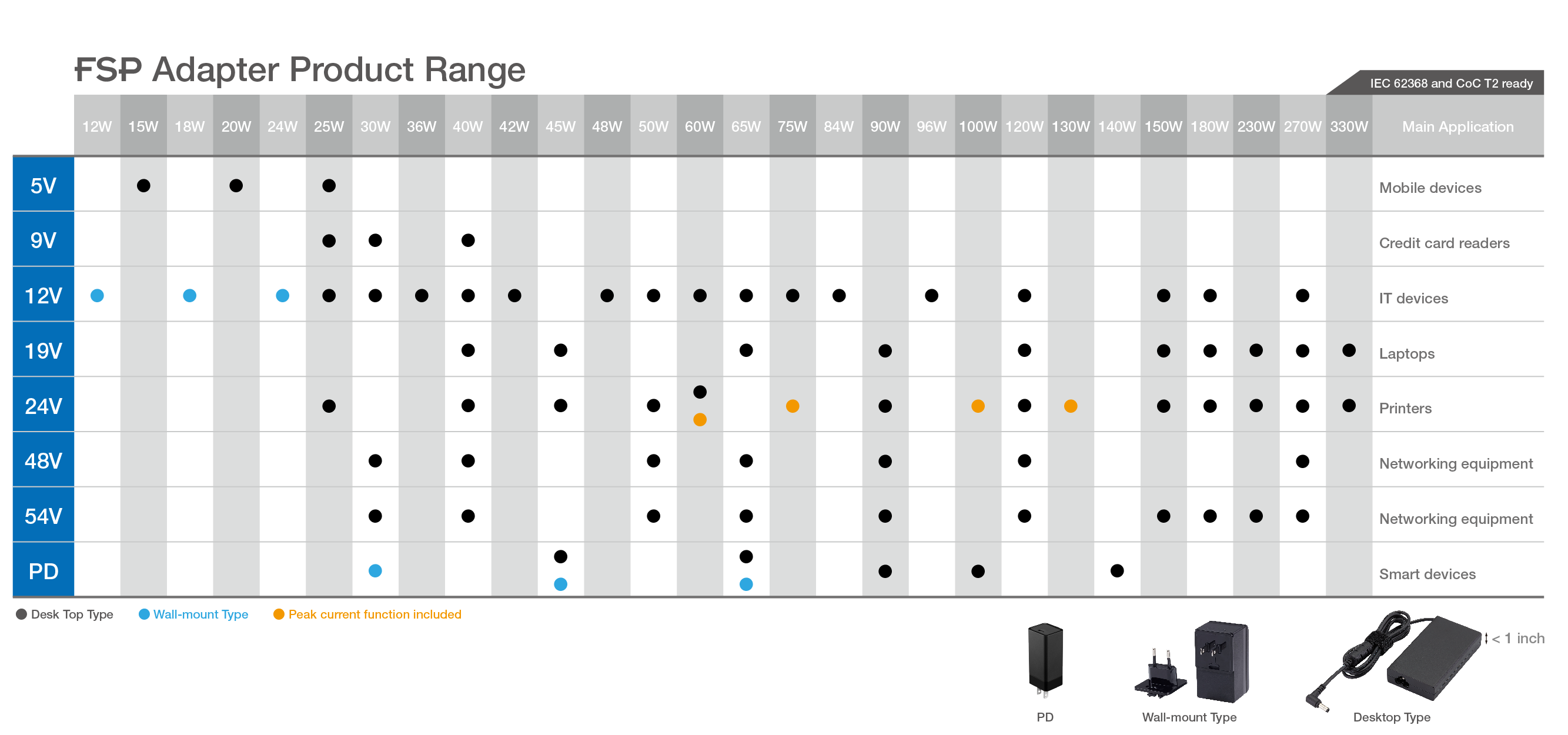 As small as a power adopter is, great wisdom is involved. In addition to putting the manufacturer's technology to the test, many consumers do not have a clue when choosing one to buy. By now, hopefully, everyone already knows how to pick an external power supply. A good Power Adapter has a long service life, and it can ensure the lifespan and safety of electronic devices, and electrical supplies. Caution must be taken!
About FSP
FSP Group is one of the global leading power supply manufacturer. Since 1993, FSP Group has followed the management conception "service, profession, and innovation" to fulfill its responsibilities as a green energy resolution supplier.