Recommending and Selecting FSP Chargers
【Taipei News, 14th November 2022】FSP Group, which has nearly 30 years of experience in the production of excellent power products, has even larger advantage in technical integration which translates into assisting customers of chargers in performing experimental testing which is complemented by both equipment and batteries, and simulates realistic usage to ensure the highest possible compatibility and stability across electrical equipment, batteries, and chargers. FSP's highly experienced safety team can even help customers resolve issues involving regulatory requirements across different countries and various applications, hence minimizing unnecessary costs for customers. FSP's greatest strength lies in over 400-strong R&D team, and as a pioneer in the development of power supplies for niche industries, FSP's experience is thus unparalleled. FSP can therefore not only provide customers with all-rounded solutions, it can even provide customers micro-customization services in the form of few but highly varied solutions. FSP has also rapidly designed and imported professionally adapted power supply products for medium-sized customers and who requiring special applications.
When choosing a charger, customers must first answer these questions: What will the charger complement? Which charger would they need: an on-board charger or an off-board charger? Even when customers have answered the above questions, there are following things customers still need to take note: The specifications of the battery? What is the material the equipment casing is made of? What is the thermal management mechanism of the equipment? Output voltage? Communications interface? Is water-resistance or dust-resistance required? Does it have to comply with a particular country's safety standards etc.
Equipment complemented by the charger are largely as follows:
Drones, autonomous mobile robots (AMRs), electric scooters, electric bicycles, energy storage equipment, electric vehicles, electric buses, electric boats, industrial/commercial dust collectors, autonomous ground vehicles (AGVs), electric forklifts.
FSP Firstly Recommends: FSP600-1UAC01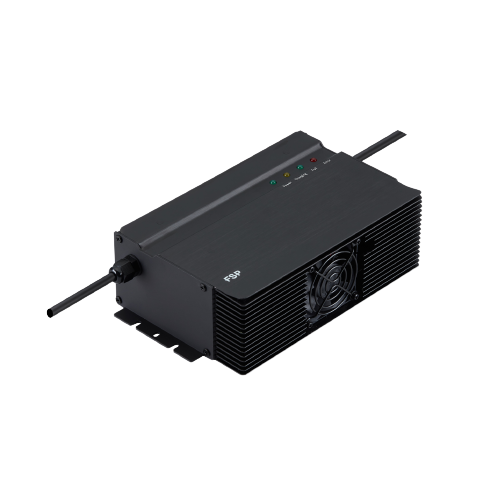 This charger's dimensions are 202*132*69mm, and only weighs 2.2kg. The 600W on-board charger is compact, lightweight, and boasts a high-efficiency design with an output voltage of 58.8V and output current of 10.0A. Featuring a sealed design with IP65 rating, and boasting a waterproof fan for heat dissipation, this charger is suitable for industrial applications or environments highly susceptible to dirt. It contains an in-built isolated CANBus communication interface, with wires, terminals, and charging curves which can be best designed and customized to customers' needs.
FSP also provides a similar 600W off-board charger (Model No. FSP600-1 UBC01) for customers with different needs. The FSP600-1 UBC01 has the same volume, weight, heat dissipation method, output voltage of 58.8V and output current of 10.0A and is IP54-rated.
The above products can be complemented by end-user applications such as electric bikes, electric scooters, AGVs, and AMRs
FSP Secondly Recommends: FSP1800C-1Q01C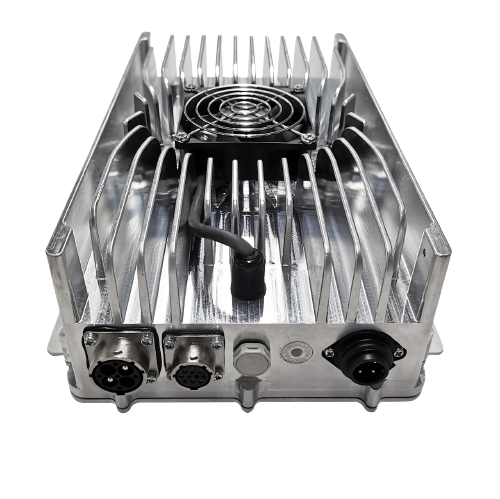 The FSP1800C-1Q01C is a high-performance 1800W on-board, dual-output charger which have an output voltage of 28-60V and an output current of 30A and 12V/0.3A low-voltage output. The product is designed around a stamped metal case and external fan, is IP65-rated, and has a built-in isolated CANBus communication interface. Featuring a standard CC/CV mode plus CC&CP mode and its specifications can be optimally designed and customized to customers' needs. The above products can be complemented by end-user applications such as electrical forklifts, AMRs and electrical vehicles.
For more FSP product information, please visit: