FSP iFP-series Intelligent UPS – A Great Partner for Small Equipment
【Taipei, Apr.23, 2019】FSP Technology Inc., the global leader in power supply manufacturing, has released the iFP-series Intelligent UPS, which can effectively protect vital equipment and data during power outages and instabilities. It also allows remote connections to be maintained for uninterrupted contact so that key messages can be sent and received at any time.
The iFP series is equipped with automatic voltage regulation to reduce the impact of unstable voltage on equipment. The intelligent UPS' functions can also provide power during outages, and the battery automatically charges when power is restored. FSP's intelligent UPS can provide equipment with an uninterrupted supply of power at any time.
The iFP-series Intelligent UPS is equipped with a rarely-seen LCD touch panel to display the power status and any abnormal conditions to make troubleshooting easier. Equipment status can be seen in real-time through a USB connection to a PC. In addition, the integrated RJ11/RJ45 connector can mitigate any damage caused by lightning to phones or network equipment.
The iFP series Intelligent UPS has 400VA to 2000VA and multinational power sockets that can simultaneously provide power to a maximum of eight devices. They are suitable for personal computers, small routers, NAS, security systems, surveillance systems, small LAN devices, workstations and small IDCs. The iFP series Intelligent UPS provides you with sufficient time to protect your vital equipment and data during power outages, and is an excellent choice for home or small office environments. This product has also passed CE, cTUVus, EAC and BIS certifications.
FSP is the global-leading power-supply manufacturer. We strive to develop and improve solutions to power your equipment while ensuring the safety and stability of your environment when using electricity.

Product Features:
• Touch LCD Display Panel
• USB communication port
• RJ11/RJ45 connector that provides surge protection
• Multinational power sockets (Europe, U.S., India, China, as well as IDC-dedicated and multinational universal sockets)
• Compact size
• Excellent microprocessor control guarantees high reliability
• Boost and buck AVR for voltage stabilization
• Auto restart while AC is recovering
• Provides simulated sine wave backup power to protect electrical equipment
• Off-mode charging
• Cold start function
• Generator compatible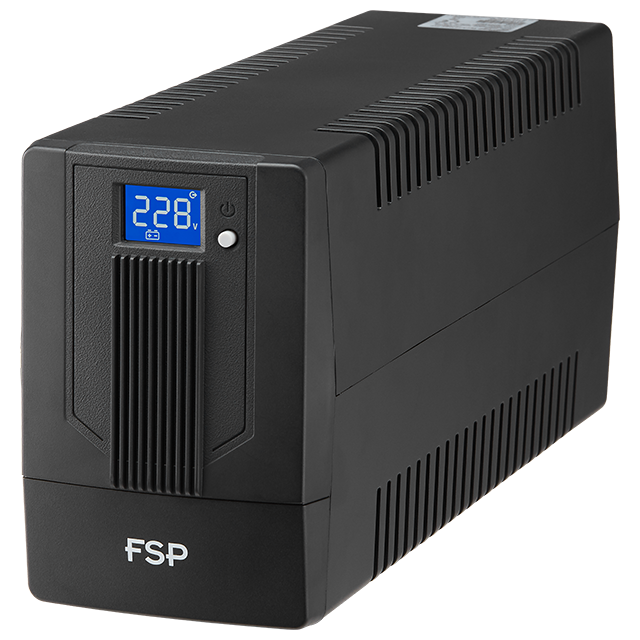 For more FSP product information, please visit:
Official website: www.fsp-group.com
FSP-branded products website: www.FSPLifestyle.com
Blog: blog.fsp-group.com
Facebook: www.facebook.com/FSP.global
LinkedIn: www.linkedin.com/company/1842554
YouTube: www.youtube.com/user/PowerNeverEnds