What Is Edge Computing & How Does It Work? A Deep Dive Into Edge Computing
The country is full of small-scale server operations. These operations are connected to each other through a network of fiber optic cables allowing for speedy and quality communication. This means that, in theory, the power and output of these small server operations are just as capable of providing the necessary value to the end-user, as one huge data center. This is an introduction into edge computing.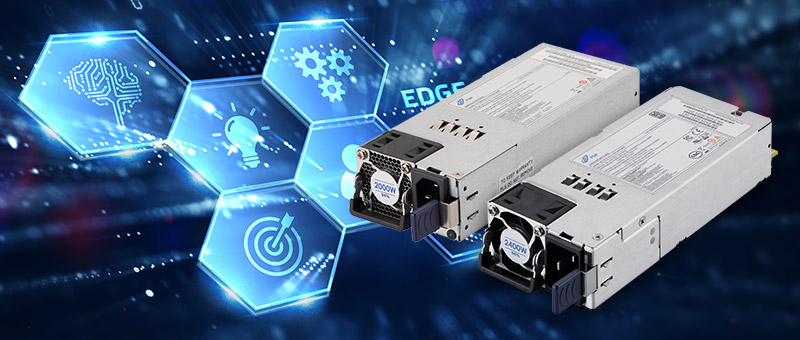 | Edge Computing Application and Solutions |
Overviews
What is Edge Computing?
Edge computing is the process of storing individual user data as near to the source as possible. This could be at the periphery, or the edge, of an associated network. Many opportunities arise for the positioning of servers at the edge of a network, as well as data storage and processors. Due to the fact this data is closer to the user, it means it minimizes latency. This is a distributed I.T. network that ultimately leverages the minimal distance required. It increases the speed of service, and this generates the associated heightening of value.
How Does Edge Computing Work?
Location is the primary concern in edge computing. Due to the rapid rise of devices and the amount of data being transferred through the Internet, traditional data centers are struggling to keep up. Therefore, the focus is now being targeted to the infrastructure's logical edge, relocating resources to the point of data generation. In essence, instead of data traveling to the data center, the data center is repositioned closer to the data. However, closer does not necessarily mean physically closer, it means closer in terms of the network and routing. Depending on the number of service providers a business utilizes, such as the cloud, etc., there could be many systems all potentially able to be the edge. Nevertheless, storage and servers are set up where the data is. All this requires is a small amount of computing setup to operate a remote LAN. Computing gear is applied to the network and protected against environmental factors in various ways. When the data is processed, the data stream is normalized and analyzed for business intelligence. The results of this are the only pieces of data that are rerouted back to the main data center.
7 Benefits of Edge Computing
There are many benefits of edge computing as it targets problems in the existing infrastructure:
Autonomy

It processes data on a local network reducing the sheer amount of data that needs to be sent and received. This means you need less bandwidth and connectivity time.
Data jurisdiction

By keeping data close to the source, there are fewer problems associated with the crossing of national borders, boundaries, and sovereign laws. This means that edge computing creates fewer legal issues, including security and privacy.
Security

Edge deployment allows data to be encrypted when it travels to the cloud or to the data center. Also, edge computing can be strengthened against cybercrime, such as hacking. This is even possible if the IoT devices are limited in terms of security capability.
Minimal latency

Due to processors being available close to where the data will be used improves processing time. It also enables real-time analytics. The opportunities for new markets are exponential.
Simplified maintenance

Micro-data centers (µDC) are tiny, can be transported on the back of a truck, and are created with as much accessibility and modularity as possible.
Reduced cooling costs

Large data centers can cost a lot to cool. However, cooling a range of smaller data centers could cost a lot less, at least in theory.
Climate consciences

It is possible that many smaller data centers will use less energy than one huge data center if edge could appropriately maximize accuracy and efficiency within its computerizations.
Edge Computing Use Cases and Examples
There are many industries where decentralization of data storage, closer to where it is needed, is useful:
Patient monitoring

There are several in-hospital opportunities for edge computing. First, it would mean that there is less need for third-party storage systems. By processing data locally, there is more patient privacy. It would also mean that there would be better notifying of patient vitals. In addition, it would create a complete view of patients' dashboards.
Smart homes

Instead of systems having to send and receive data to the main storage hub, having edge technology implemented in smart homes will have more feasibility. They will have less latency, more security, and less backhaul costs. Voice commands will work quicker, like in real-time, for example.
Traffic management

As the reads become increasingly busy, there is a clear need for smarter systems. Edge computing can help by optimizing traffic in the city, by opening up lanes where and when necessary, and it will be vital in managing autonomous cars.
Smart Factory 1

Effective accelerating platform data communication: Besides integrating digital and physical technologies, edge computing also accelerates data interchange among different types of machinery to enable faster and more flexible responses to various situations in the manufacturing process. Additionally, it further facilitates the construction of a scalable, flexible platform by integrating predictive analysis and machine learning algorithms.
Smart Factory 2

Facilitating machine maintenance and parameter adjustment: The performance of machine automation is key to the success of the manufacturing industries. In general, the internet of things (IoT) is applied to detect and monitor machine operations and edge computing is employed to analyze on-site data. When an anomaly is detected, workers can make corrections or implement predictive maintenance in advance to prevent the anomaly from affecting the production line. Such data also helps analyze the indicators that affect machine operation most for manufacturers to extend machine life, thereby reducing maintenance costs and enhancing machine operating efficiency.
Self-Driving Cars

Enabling real-time response to traffic situations: In general, it takes about 100ms to transmit data from the car sensor to the back-office cloud data center, and the transmission time may increase as the data volume increases. In terms of driving decision-making, data transmission delays may significantly affect the situated response of self-driving cars. Hence, edge computing can help resolve the data transmission delay among data centers to enhance driving safety.
Crowd Management

Facilitating crowd control in big events: Edge computing enables mobility applications to program messages for each person regarding ticket purchase, transportation route, and entrance or seat location and provides exclusive event content in big entertainment events such as concerts and matches. Edge computing also helps understand user mobility and involvement in the event site for organizers to make smart decisions, such as launching flash sales.
Distributed Grid Management

Achieving distributed grid management with edge computing and energy storage systems: While data generation and interchange are part of the key factors affecting production and value in the electricity sector, increasing electricity subscribers from different sectors and power plants tend to adopt distributed regional grids in place of central generation. Such a huge network topology structure thus increases the demand for a large volume of real-time data and synchronization to ensure the realization of grid balance optimization. Additionally, edge computing can also realize energy conservation, such as lowering the cost for high energy-using production activities, reducing environmental energy consumption, and protecting the climate and the environment, and others. Hence, edge computing enables user-centered electricity service by enhancing electricity efficiency in households, factories, cities, and even countries, providing more data for proper resource utilization.
Edge technology has many useful applications, and listed above are just a few.
Relationship between Edge Computing Equipment and Power Supply Units
In terms of edge computing equipment, power consumption is an inevitable issue. That is, the more functions there are, the higher the power consumption will be. In terms of electricity demand, as unreliable and dirty power sources are everywhere in the industrial IoT environment and some edge computing equipment is not in active mode, some applications will need energy storage systems to supply low power and an alternative power source. In terms of the wattage of power supply units (PSU), the equipment size and PSU size and wattage are proportional, i.e., the bigger the equipment is, the greater the wattage is required, and the larger the PSU size will be. For the edge computing unit to run more efficiently, unit design becomes simpler to shorten the response time. Hence, size reduction, efficiency enhancement, and thermal solution optimization have become the focus.
Effects of power supply units on edge computing performance
The OT deployment of edge computing is diverse in different sectors. In the manufacturing sector, the deployment focus is the protection and management of stationary industrial automation equipment. In the energy and utility sectors, remote access is the key to deployment. In the transportation, railway, mining, and agriculture sectors, mobility application is emphasized. Each section has its own standards and certification requirements to ensure the protection of the application of field-specific knowledge, best practices, and safety. Compared to the stable environment of traditional data centers, in response to the environment and hardware size of edge computing, the electricity efficiency, power density, and reliability of power supply units (PSUs) play an essential role. While "electricity" is the key, power disruption due to PSU instability is a prevalent, annoying issue. For example, whether or not power leakage when running at high voltage will affect hardware operation and even cause industrial safety issues when the load is high, or whether or not efficiency and stability of power supply can maintain the basic computing performance of equipment when the load is low. Although IT and the cloud environment can compensate for the defects in the former, hardware quality is still the major effect. While high-quality PSUs can prevent data loss, data distortion, and other issues in edge computing devices, for stabler and better performance of edge computing, quality PSUs are indispensable to edge computing.
Considerations of Choosing Power Supply in these Edge Computing Applications
One problem of edge computing may well be the need for power. It does not matter where the server is, it will require high-powered processors. Other considerations that will need to be made in reference to the power supply options include: installation location, input specification, operation temperature, IP rating (IEC60529) (IP - Ingress Protection), surge requirement, and power connectors. All these variables can affect the efficiency, effectiveness, and ability of the network to run continually, without any meaningful loss of power.
Edge Computing, IoT, and 5G Possibilities
Edge computing is an evolving entity with new technology being brought in all the time. All this enhances its availability, capabilities, and performance. More and more products are being specially made with edge technology. Decentralization of data is the future. 5G will have an effect on edge by increasing its capabilities, such as with the autonomy of vehicles. It will also make wireless networks much more flexible while reducing costs. Due to the fact that the IoT is still rapidly rising, it means that the development of edge computing will evolve alongside it. There will be scope for MMDCs (micro modular data centers) that are already in development and are about the size of a box. These MMDCs can be deployed close to where the data is needed.
FSP's Edge Computing Power Supply Solutions
FSP has many edge computing solutions in operation. They are equipped with appropriate multi-communication technology to enhance any network. They have the best power supply installed and many associated functions. You can easily connect with these data centers and analyze the data schematics to enhance your business functionality.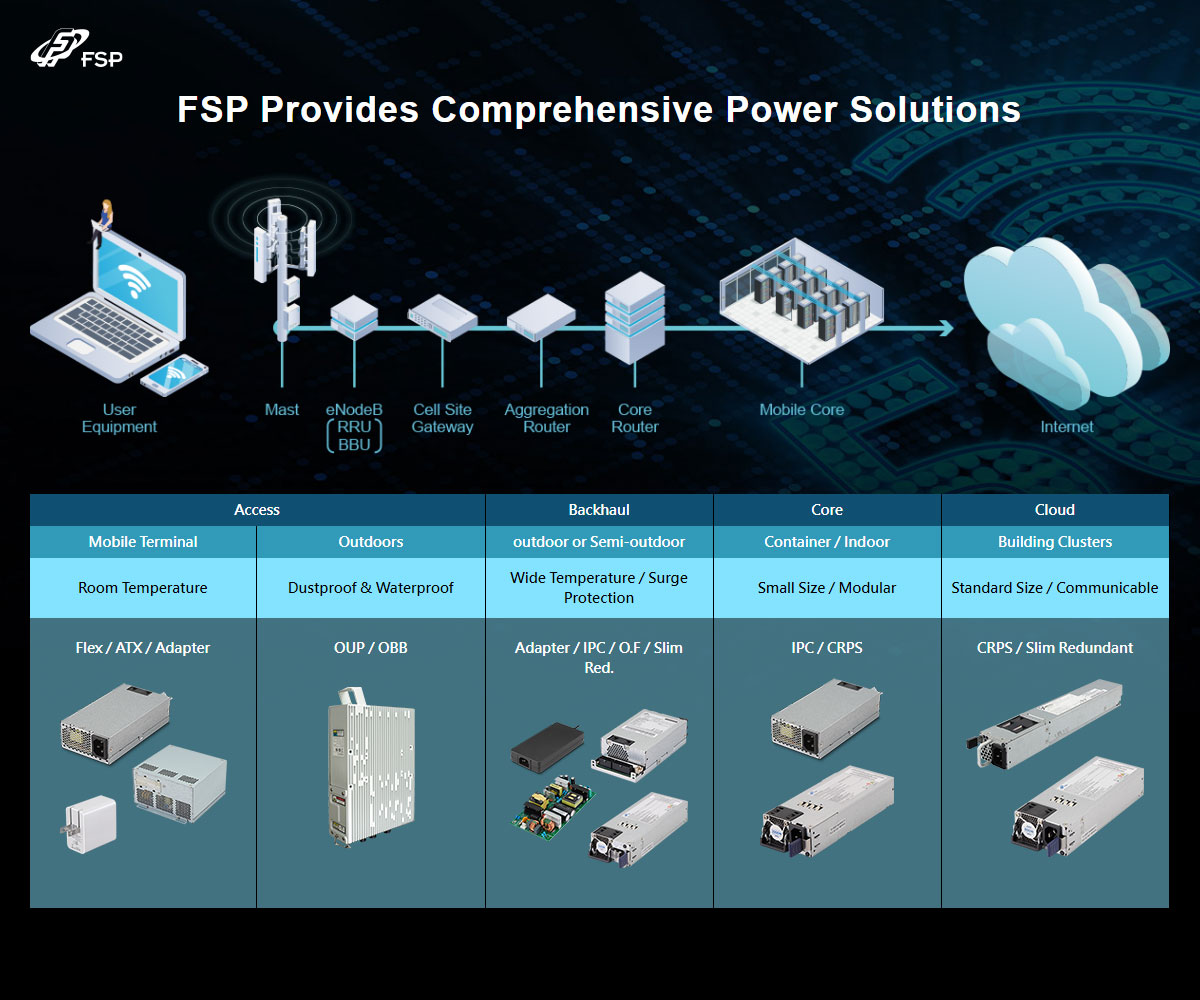 FSP has complete CRPS product line, suitable for cloud, edge computing and other application fields.
Related Articles
About FSP
FSP Group is one of the global leading power supply manufacturer. Since 1993, FSP Group has followed the management conception "service, profession, and innovation" to fulfill its responsibilities as a green energy resolution supplier.