FSP makes new life with smart energy for home a reality with micro-grid energy storage system
【Taipei, Sep. 23, 2022】To mitigate the impacts of climate change and greenhouse effect, the Intergovernmental Panel on Climate Change (IPCC) has urged countries in the world to reduce GHG emissions by 50% before 2030 to achieve net zero emissions by 2050 to keep global warming within 1.5°C. To realize its long-standing care for the global environment, FSP spares no effort in practicing energy conservation and carbon reduction in its production lines and office operations. Statistics from Taiwan's Environmental Protection Administration (EPA) showed that FSP reduced its carbon emissions by 23 tons in 2021. To promote home energy storage systems, FSP will demonstrate its micro-grid energy storage system at "Light+Building 2022" building lighting exhibition held in Germany to direct more users towards a new life powered by smart energy.
In response to global net zero emission targets and plans for net zero transition, FSP has had a comprehensive portfolio of products in new energy collection, new energy conversion, new energy storage, and integration of new energies which allows us introduce a series of home energy storage systems such as the 5kW grid connection system, 8kW off-grid system, and 1kW mobile energy storage system. The All-In-One (AIO) design both reduces investment cost in power transmission and distribution facilities, and reduces power transmission loss. When power supply from centralized generation networks is disrupted, the distributed energy storage system immediately takes over power supply through the energy management system (EMS) to continue supplying power to critical loads nearby using energy stored within the system, hence achieving self-generation of power for both self-consumption and redundancy in an emergency.
Additionally, the HySpirit Three Phase 10kW hybrid inverter, another of FSP's featured product, is a power conversion system (PCS) equipped with on/off grid energy storage function. The HySpirit inverter's output can be increased to 60KW to meet different electricity requirement scenarios through customized battery modules or special-purpose high-voltage battery modules. Micro-customization and integrated development based on the customer's battery management system (BMS) protocols is also possible.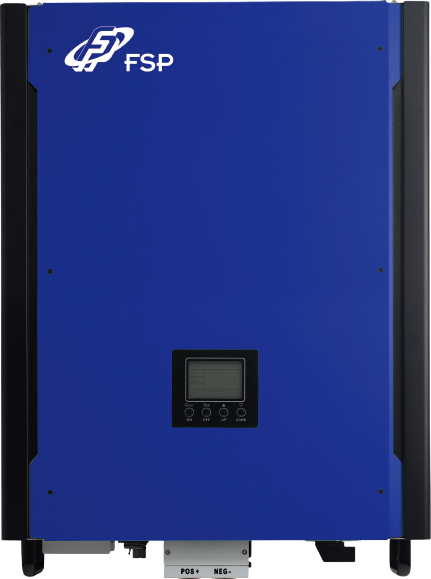 HySpirit Three Phase 10kW
FSP's quick integrated solutions for home energy storage systems will be on display at Messe Frankfurt from 2 October 2022 to 6 October 2022. All in need of energy storage products are welcome to visit us and have a chat with us at our booth at D70, Hall 11.0. As a world-leading PSU supplier, FSP's deep and wide product portfolio helps us to serve in all aspects of everyone's daily lives and contribute to the environment, hence realizing our unchanging mission since establishment: total care for our society.
For more FSP product information, please visit: